JOIN SANDY – OCTOBER 19-29, 2017
Needles ' N  Fins 2017 UPCOMING CRUISE ADVENTURES
Needles are indicative of handwork and Fins are indicative of water!  Mix them together and what do you have?  A fantastic venue to enjoy the fellowship of sharing your passion in a beautiful, relaxing setting.
PARTY ON THE PO
PO RIVER, ITALY, CRUISE
October 19 – 29 ,2017
You know you cannot go wrong when you add the beauty of Italy to your cruising bucket list. We will spend glorious days and nights touring through the slow and relaxing waters of the Po River in Italy.  Stops will include areas of Milan and Venice to just name the highlights.  See the complete itinerary attached separately and in the files section as well.
HOW DO I BECOME ONE OF THE LUCKY 130 PEOPLE?
First, you must register with Duo Designs, Inc. (me)to be included in the group and for needlepoint class participation. From there I will forward the appropriate information to our Travel Manager, Elizabeth Wolak who will take care of all the traveling questions, reservations, charges and individual needs.
CLICK HERE FOR A PDF WITH DETAILS!
A PDF will open in a new Browser Tab
---
PAST DUO DESIGNS CRUISE
Well, plans are falling into place for the Needles & Fins Cruise sponsored by Duo Designs, Inc.
We are now set to sail out of Tampa, FL, on February 11, 2012, for 5 days of relaxation.  Carnival Paradise will be our home during that time.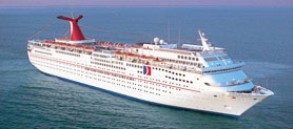 We will be visiting Grand Cayman one day and Cozumel one day for our shore leave.
Here are the details so far:
On the Carnival Paradise from Tampa, Florida
Our cruise will be open to all – spouses, significant others, friends, etc.
It will be a 5 day cruise to the Western Caribbean, including 2 fun days at sea, 1 day in Grand Cayman, and 1 day in Cozumel.
Sandy has designed a needlepoint piece commemorating this cruise and will be teaching it during one day at sea at an additional
cost.
While the theme of this cruise is stitching, the cruise if open to all – family, friends, stitchers and non-stitchers alike!  Bring your own party!
Plans are in the works to provide us with a stitching room to use during our time at sea.  My previous cruise was blessed with a well-lit room that had ample natural light provided by a wall of windows that looked out at sea.  If you took your eyes away from your stitching long enough you might have viewed a dolphin or two playing.
While at sea, I will have available the option to participate in a one-day class in needlepoint.  The design is specially created to commemorate the wonderful event.  Details such as cost, time, and a picture of the design will follow later as we get closer to the event.
Attached is the Registration Form to give you an idea of what to expect as far as expenses.  I will provide more information as time goes on such as drink card prices, things to do for those non-stitchers, etc.
Click here to the Registration Form in PDF format.
Please sign up below to receive Cruise Updates and Announcements
We certainly hope you will plan to join us!
Sandy