The Mod Ornaments Online Mystery Class is over half finished and it is time to start preparing for the next one.
Our next adventure is a beautiful seasonal canvas that will be at home anywhere because it is not holiday based. Harvest is a hand-painted canvas by Robbyn's Nest Designs #R888 and it can be ordered on 18 ct or 13 ct canvas. The design area is 10" x 15" so it requires 14" x 19" stretcher bars.
This colorful design screams of subdued elegance. Look at all the fun possibilities! Where do we start? Stumpwork techniques?Padding? Embellishments out the wazoo! It excites me to think of what all we can do with this design. Wow! We will have a very soft touch of bling on this beautiful design. – nothing flashy.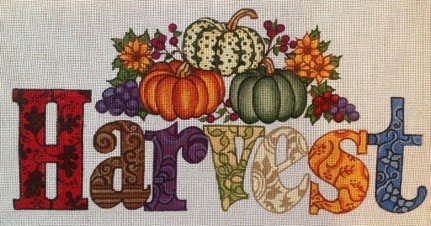 Each colorful letter will be an exercise in stitches, techniques and thread use in its own right. And those pumpkins! The flowers! The berries! Grapes! Leaves! We are going to have a very busy 6 months on this fantastic tribute to a lovely season of rest, calm and new beginnings.
Your lessons will be much more detailed than the information contained in the commercial stitch guide that will follow, which, for economic reasons, must be more condensed. There will be numerous detailed stitch diagrams, photos of work in progress and more lengthy discussions. As we work through each lesson, questions from you trigger e-blasts which provide further clarification if needed, tips from other students, etc.
Registration is now open and will remain open until March 15, 2015. If you choose to participate registration is very easy – just send me an email forwarding your contact email address to duodesignsinc @ yahoo.com (remove the spaces, please! ). This address is needed in order to get you setup in the system to receive the lessons and e-blasts as they are distributed.
Get your canvas ordered as quickly as possible. Some shops state it takes 4-6 weeks to receive a painted canvas so don't delay. Robbyn is painting feverously!
Invoices will be sent mid-month beginning April 2015 for 6 months. They will be sent via PayPal. They are $25 each for a total of $150.Some folks prefer to be invoiced in one lump sum of $150 through PayPal or send a check and either is perfectly acceptable.
Once PayPal notifies me that the invoice is paid I will be forwarding the lessons to you individually. It will be via email in a pdf format.
There are 6 lessons that will be distributed once a month beginning mid April  2015.In reality, you get an invoice, when it is processed, you will receive a pdf of the lesson.
Okay, so now you have some eye candy and enticement! Pass the word and get your friends on board. I love the way some of you are setting up little stitching groups to play with the lessons as they are distributed. Just remember copyright issues and that each of you must be registered and receive your own individual, legal copy of the lesson.
Let me know if you have any questions and I'd love to have you all on board with us!
In the meanwhile, remember – stitch with a smile!
Sandy